Special Needs
For free information on specialized services for children, youth, and adults with special needs contact an Information and Resource Specialist:
Call 905-890-9432 for Mississauga and Brampton
For Caledon Call 1-888-836-5550
TTY 905-890-8089
Interpretive services are available
Information is available on:
• Types of service
• Eligibility criteria
• Locations of agencies and areas served, hours of service and program costs.
To view some of the special needs opportunities and events in Peel click on the icon below: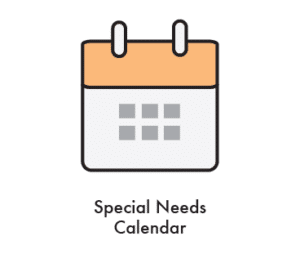 Ceci est un service d'information sans frais de la région de Peel à l'intention des enfants, familles et personnes atteintes des troubles développementaux.
De l'information est disponible quant aux sortes de services, critères d'admissibilité, emplacement des agences, secteurs desservis, heures de service et coûts des programmes. Des services d'interprétation sont disponibles.
Pour parler à un de nos spécialistes en information et référence, composez le 905-890-9432 à partir de Mississauga et Brampton, à partir de Caledon, composez le 1-888-836-5550. Le numéro de l'ATS-ATME est le 905-890-8089.